31st December 2020
---
I'm writing this in the new year and can't believe we're already into 2021! December was a short month, with our focus purely on refinements, Microsoft Teams integration and secret works. Here's a list of what was released throughout the month.
What's New Webinar
No recording for December, too busy relaxing and recovering.
Correspondence Register - Email Addon (Update)
After a preliminary release back in October and a bunch of refinements in November, we carried out some more refinements once again this month across gmail and outlook. We are still jumping through some hoops and making changes to ensure Google is happy with the scope that we have requested - This will continue this month.
Gmail

Fixed a bug with attachments when not selected and other refinements to make them more reliable
Fixed a number of circumstances that would generate a "content is blocked" error.
Fixed tag to say "Assigned to AccountKit" not "Assigned to AK"
Closing a window now takes you to the "No selection" pane.
Fixed bugs around From / To elements when emails appear in the Correspondence Register
Various tweaks in line with feedback from Google.



Outlook

Fixed a bug where special characters would sometimes appear incorrectly.
Added ability for a custom email address, not just the contact email.
Refine email selection - where if you've manually selected an email, changing the client shouldn't then change that email again.
Refined the pop-up and process for saving attachments.
Disabled the "Login with Xero" when logging in with the extension.



Other Correspondence Register changes

Fixed a bug where meeting attendees / appologies are added multiple times upon output to PDF.
The other bits
Client Map

Fixed a bug where maps with icons in an older format would cause an error on load.
Fixed an autobuild bug
Fixed a bug where the Date of birth wasn't showing.



Equipment Finance

Fixed a bug where the irregular schedule would clear the conversion date upon save.
Fixed a bug where a 0% interest rate irregular schedule would save any changes made to a conversion date, nor apply it to the schedule.
Update to the way the free text fields work in the purchase area.



Inter-Entity Loan

Fixed a bug where you could no longer reconcile two transactions on the same side.
Enable the ability to create multi-line adjustments (on opening balances and when reconciling two transaction that don't necessarily match)
Fixed a bug where if you had a selection, then used select all, it would unselect those selected items.
Fixed a bug where you reconcile / unreconcile multiple times in bulk, future selections wouldn't behave.



Other

Updated the SuiteFiles logo to the new branding.
Fixed a bug where setting up 2FA via SMS generates an error.
Fixed a bug where a change to user name or mobile number wasn't saving.
BGL - refinements to the matching process and enabling export of the reports to excel.
Refine the background Xero sync process to only go overnight + ensure that if paused by a "wait" command, it picks up from where it left off, not at the start once again.
Fixed a bug where a client group with the "&" would be changed to "&amp"
Added a function to the user logging to identify who sent the initial invite and when the user accepted the invite.
Mail Register - Add addressee field to the quick copy for the address
30th November 2020
---
We're all counting down to Christmas and a little R&R, but that hasn't stopped the improvements - we're determined to continue to deliver some awesome refinements in your stocking before year end.
What's New Webinar
Correspondence Register - Email Addon (Update)
We did a preliminary release of this last month, but we've continued to chip away at it broadening the functionality across Outlook and Google. The only thing to note, is if you're using Gmail, you will get a warning as Google are going through their many week checking process, since we're dealing with sensitive data - your emails!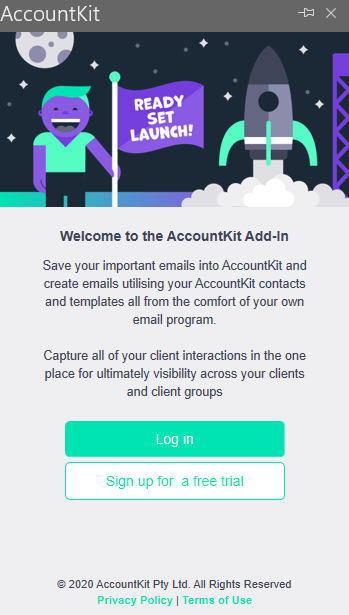 What do we support?
We have identical functionality across the two major players, Google and Microsoft.

What's included with the new functionality?
You have been able to attribute emails to the Correspondence Register for a long while now, but it's always been a bit clunky. So we've re-written the add-on and given it a bunch of new functionality.



When sending emails: You have access to the AccountKit panel - essentially an address book with all your client details, templates and files from AccountKit at your fingertips.



Look up the person you want to send the email to, which then populates the email field
Attribute the message to a client within a group
Insert a template straight from AccountKit into the message
Insert attachments from any DMS that you use or upload and attach at the same time. Inline graphics won't be included in the list.
You can then optionally attribute the email to the correspondence register upon send.



When receiving emails: You have the updated AccountKit panel



Assign a received email to the Correspondence Register.
Choose which attachments you would like to save and where.
Any messages assigned to AccountKit will be tagged so you can visually see which have been saved already.



Sending Emails from AccountKit

You'll find you have an "Email" option in the correspondence register so you have the option to email from your own email system or from AccountKit.
This sends using your actual email, so it'll appear in your sent items.
All the normal features you'd expect - CC, BCC clients or team members; Attach and upload files from your connected document management system.
Inter-Entity Loan
Optimisations are the name of the game for this release.
Optimisations

Journals now post in bulk, rather than one at a time.
If there was lots of entries, the account select slowed the page down. This is now super fast.

Fixes

Sometimes the cursor would get stuck and jump between two fields.
You couldn't successfully delete a tracking category if you accidentally added it in + it would auto-populate if you accidentally opened the select drop down.
If you have a journal in Xero that is moving values between two accounts within the same inter-entity loan, the transactions would disappear and re-appear; (eg. journal moving something from Funds contributed to Drawings)
Sometimes when you select entries / post entries - the next time you select it doesn't show the correct number of selected transactions.
Lots of fixes around the new bulk posting functionality.
The other bits
Equipment Finance

Fixed a bug where the "EOFY adjustment" option was always showing for deferral events.
Further refined the "Purchase Journal" area - tab stops now behave; GST calculation would sometimes not update upon manual change of GST code.
Amortisation Scheduler

Fixed a bug where the "sync to Xero button wasn't appearing until after saving.
Client Map

Fixed a bug where text within shapes would disappear (it was always there, just hidden at times)
Polish to the Autobuild functionality
Division 7A Tool

Added descriptions for each loan on the export to excel.
Optimisations for when there is a lot of Xero data for a selected period.
Other matters

New "E-Sign" type for mail register
Updated the Google & GMail logos per their new branding
Updated the SuiteFiles logo per their new branding
Re-write of the file browser to work uniformly across all areas of AccountKit and within emails.
Fixed a bug where integrating with a Microsoft product generates a return code larger than our systems could handle.
Updated pricing to exclude entities within XPM that have a business entity type of "Non Client"
Fixed issue where encoded emails were ending up with some odd characters in place of apostrophe's and dashes.
31st October 2020
---
This month has been a bitsy one, with bits and pieces all over the place. But don't let this fool you, the updates are still significant across Client Maps and Correspondence especially.
What's New Webinar
Client Maps - Autobuild

[Beta]
This is our first foray into helping you build diagrams in a much faster fashion. The challenge here is that everyone likes to do their diagrams differently, so we've given you a few options to help you, no matter how you build your diagrams. Now this particular feature is in Beta while we tweak and massage the underlying methodology, don't worry for you can't break anything, so give it a try!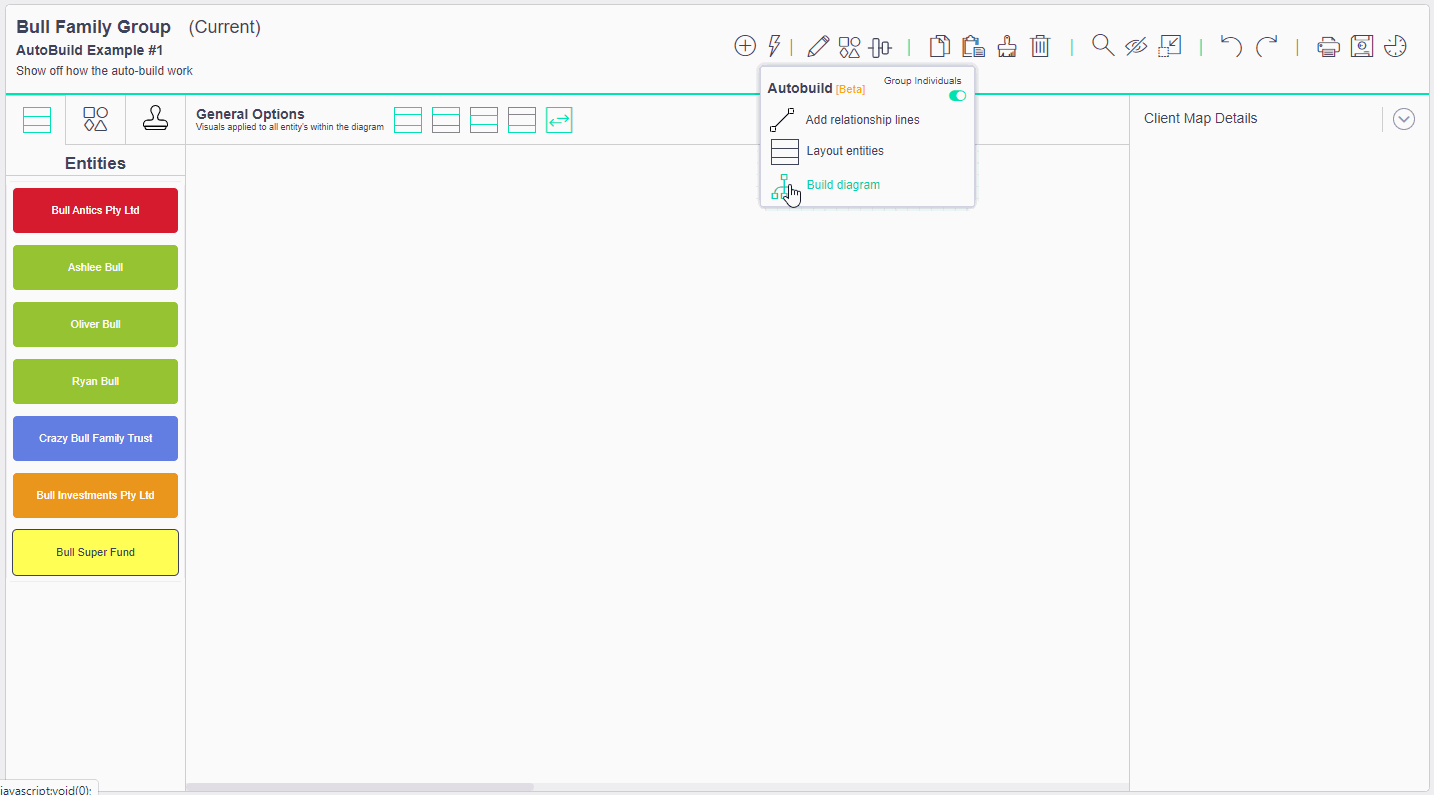 You'll find you have a new "auto-build" button. Your options here include:



Auto add relationship lines - This is where you want to layout the structures how you want, then we will add lines between entities based on any current relationships
Auto layout entities - This is where you just want the entities laid out initially, so you can tweak them first before adding the relationship lines.
Auto build diagram - This is where we'll build based on our own patterns including all entities and lines.
Group Individuals - This option puts all individuals into a single group, rather than having them spread out across the bottom of the diagram.

How does auto-build work?

We first look at the breakdown of entities and relationships for a pattern that may match one of our predefined structures.
If one exists, we build based on our predefined layouts.
If not, all entities get laid out in rows by entity type.
Then the relationship lines are attached.

Other things to note

We only do relationship lines for certain relationship types - ie. those that imply ownership or entitlement.

Shareholders
Unitholders
Beneficiaries
Members
Partnerships

If you've already laid out any entities and you select the Auto-build option, all entities will be repositioned. Other objects like icons and text boxes will stay where they are. Line with entities will need to be re-established.

The future

We're the first to admit that we don't all do diagrams the same, so while we can't do every combination available, if you have a super common structure you use, send us an example and we can look to try and support the auto-build for this.
Also consider how you like to represent trustee roles and if you'd like any options as to how they're presented; Eg. a toggle that doesn't include them in a diagram at all in case you're worried that it'll confuse clients.
Correspondence Register - Email Addon (Initial update)
While you won't have this immediately whilst we await Microsoft approval, what you will see in the coming weeks as a significant upgrade to the email addon with some new features and bug fixes.
Emails (where you've connected your Office 365 or Gmail account)

Auto-refresh upon login
Fixed a bug where the link to the message in AK was lost if the email was moved.
New ability to insert contact details + insert templates from AK into an email
New ability to save upon send

Fixed issue when inserting images into emails.
Fixed conditions for when the option to send email / SMS appears in the favourites menu.

SMS

Various bug fixes - eg. "draft" not being shown when a message has been saved and not sent.
Updates to the confirmation messages upon successful send.
Support for SMS longer than 160 characters including support for carriage returns
The other bits
Equipment Finance

Enabled deferring of weekly schedules by a number of weeks.

Fixed a bug where an "index error" would generate on some schedules due to a change in the way that we determine if payments are late / early when establishing whether to show a schedule is out of balance.
Fixed a bug in the Summary Report not showing the correct columns in some circumstances + other tweaks to improve performance.
Ability for Support to transfer equipment finance schedules between subscribers (where a practice splits and needs their schedules moved).



Amortisation Scheduler

Various refinements to the 3 reports to fix some bugs and visual issues



Security Matters

Initial creation of a new user now generates a much more complex base email.
New users are forced to now change their password upon first login.



Other matters

Bulk update functionality for phone numbers and email addresses

Adding / removing client notes now updates client history
Fixed a bug where if there was an issue with the BGL API, the dashboard would no longer show.
30th September 2020
---
Normally we'd have headed to Xerocon with a major release in our pocket, but with no major event, we've none the less rolled out a significant set of releases. Finally the Amortisation Scheduler is out of beta with some fancy new reports to boot.
What's New Webinar
Amortisation Scheduler
This tool has been in limbo in Beta for the longest of times. But we've finally dived back in and given this a final lick of paint ready for full release. It's seen a lot of use over this past year, so we're sure once we make it official, you'll get plenty of use out of it for anything you'd like to amortise - whether it be prepaid income over a number of years, a lump sum of insurance you want to spread out over 12 months for management reporting purposes, or simply managing your borrowing expenses you would to spread over 3 or more years.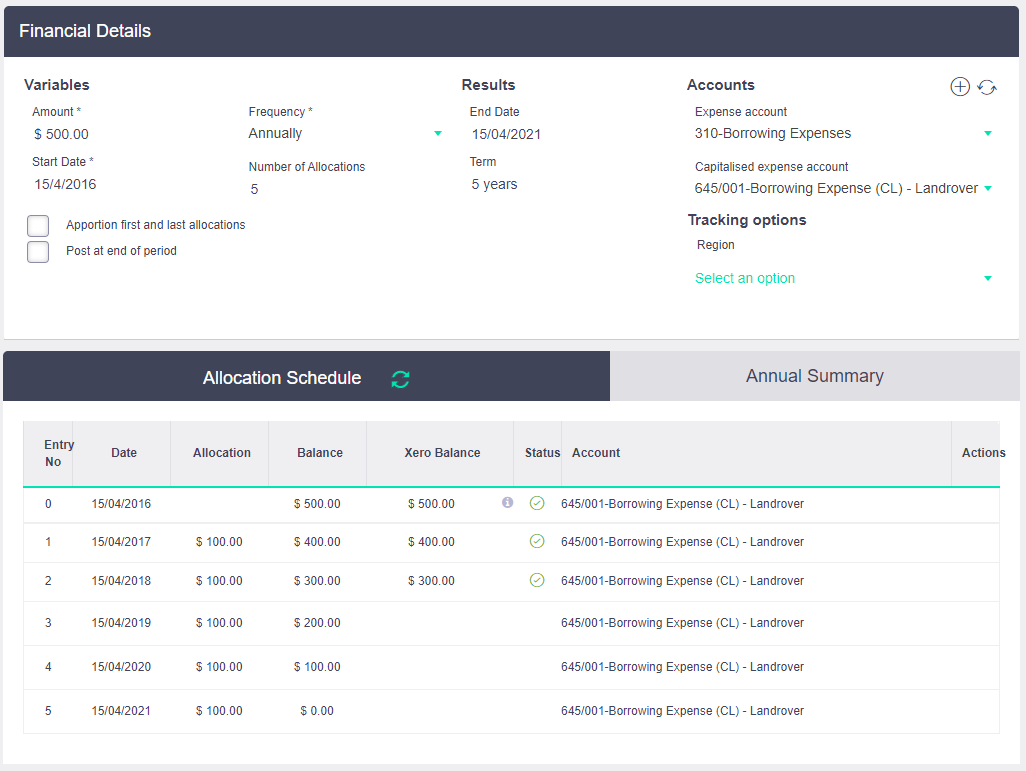 Key functionality

Ability to define different types of schedules - Income or Expense based. We've created some basics (prepaid income, prepaid expense, but you can create more if you need.
Ability to adjust at the opening or conversion balance - This can be used to take up doing the entries from your old schedules OR you can create an adjusting entry to re-assign an amount from a P&L account.
Generation of a journal schedule, including establishing entries on the opening balance period (period 0)
Ability to apportion first and last allocations in case you don't / can't do straight-line.
Option to post the allocations at the end of a period, rather than through out the period (eg. end of year, end of quarter, end of month etc)
One off event in the event you want to do an entry to clear the balance (eg. equipment finance has been paid out so the borrowing expense can be written off)
Export of schedules to PDF or Excel
Bulk export of schedules within one excel schedule.



Reports

Summary report - flexible report showing all current amortisation schedules
Summary movement report - report for showing the movement between two periods.
Periodic amortisation report - this is the equivalent of a cashflow commitments report. It shows all allocations by month over a given period.
Correspondence Register
The correspondence register has seen a bunch of extra love around SMS and emails, thanks for all the very useful feedback around these features.
Emails (where you've connected your Office 365 or Gmail

Utilise sending using your own mailbox (appears in your sent items)
BCC and CC functionality (for both clients and your team)
Inserting of images (and for the technically minded, converted to base64)
Lots of tweaks around various visuals
Practice settings - we now show which email account you've connected to. Makes it easier to identify when you're having authorisation errors when attempting to send with a different email than which you connected with.



SMS

New count in the SMS centre in-tray so you know if there are some new responses that haven't been seen by you yet.
Within the SMS centre, you'll only have numbers where an SMS hasn't auto-assigned to a client, which you can easily do from there.
New practice settings to enable sending of an email when an SMS response has been received + option to flag other team members (eg. other admin staff)
Lots of visual refinements



Other

Somewhere along the way the graphics on messages and the like went missing. We've tracking them down and re-instated them.
Fixed draft functionality for emails
Updated placeholder for contact details that was showing "contact number" rather than "email"
The other bits
Security Matters

Overhaul of the password reset, enforcing much tighter restrictions around password length and complexity. Going forward you must have at least 10 characters, an upper and lower case letter, one number and one special character.

New option for practice administrator to enable / disable different 2FA reset options.

Disabled ability for users to change their own user login email. This can only be changed by the practice administrator now + will not allow a change to a user email that already exists elsewhere.


Equipment Finance

NEW Summary Report - this replaces the "exported visible schedules" option. This version is much more flexible enabling you to choose which columns you would like to export and what you would like to sort by.
Re-write of the logic for ascertaining late / early repayments (it was hit and miss previously)
Fixed GST not behaving correctly on the purchase journal under certain circumstances
Similar issue resolved where tracking categories were involved.
Fixed a bug where the cursor would sometimes jump back and forth between residual and date fields
Fixed issues with the tabbing between fields within the purchase journal area along with other optimisations. (it was clunky!)
Fixed a bug where you couldn't undo a deferral for a schedule that wasn't synced with Xero.
Fixed a bug where the EOFY adjustment date and adjustment amount weren't shown where schedule wasn't synced with Xero.
Fixed a bug where if you built a schedule, but then changed accounts and rebuilt, it would double up the repayment lines. At the same time remove the ability to set the same account for two accounts.



Inter-entity loan

We've resolved some issues where transaction lists weren't refreshing, despite the transactions having been synced with Xero in the back ground.
Resolved another bug that would sometimes cause a sync to get stuck in an infinite loop.
Resolved a bug where unreconciling a red out of balance transaction wasn't removing the transactions from the list, despite them not existing anymore.
Fixed a bug where posting between inter-entity loans weren't updating the number of transactions bubble.



Client Map

Fixed a bug where sandbox change of theme wouldn't behave.
Fixed a bug where date of birth for individuals would show up as date of estab.
Fixed a bug where individuals within a group would show up in full colour in the left menu.
Fixed a bug where if you deleted a proposed entity from the left entity list, they'd all show up in full colour once again.
Fixed a bug where adding a new entity to the canvas doesn't apply the diagram theme, but the practice theme instead.
Fixed a bug where adding a new entity with a long file name would push the pop-up off the screen. It's now fixed width.



Other matters

Merge client routine now updates the client history
Added a new "Sibling" relationship type (doesn't flow back to XPM)
Further work encrypting integration tokens (Office 365, Gmail, BGL)
Fixed bug with Div7a where the last year would calculate incorrectly if you manually added a repayment the same as the mandatory dividend on the first day of the year.
Optimised BGL and NowInfinity dashboards to reduce API calls and speed up the dashboard.
Changed the logic for when a Xero icon would turn red (due to invalid token) - used to wait for 3 error before turning red. But now if the token is invalid (eg. employee who had connected has left), it turns red immediately so you know when the connection is broken immediately.
Fixed a bug where you couldn't review the full "Client notes" list + notes attributed to archived clients showed no clients at all - that's now been fixed.
31st August 2020
---
August is now behind us and we would normally be getting ready for Xerocon, but alas it's not to be this year. Instead it's given us time to focus on some great new enhancements across the Client Map and Correspondence Register. These additions are brilliant if I may say so myself!
What's New Webinar
Client Map
This month beyond the general tweaks and usability refinements, we've added a brilliant new feature to the client map by way of themes.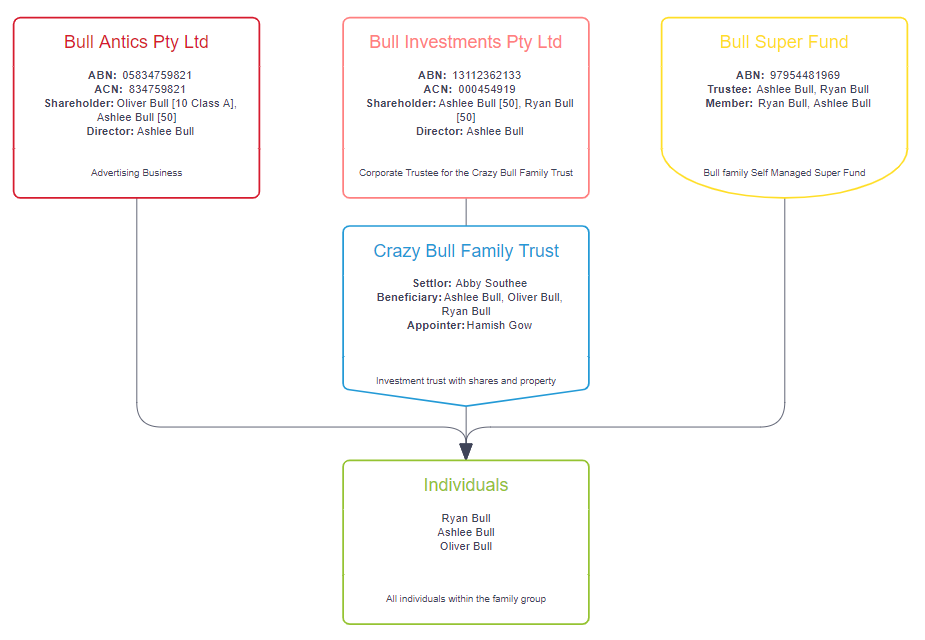 Themes - these enable you to change the visuals across the whole diagram to a pre-defined visual style. Here's what you can expect

New Entity type shapes - you can now define different shapes for different entity types, if you find that the colour coding is not quite clear enough. This also includes setting a shape and visuals for "Individual Groups".
A new defined theme call "Outline" which shows off the new shapes and a totally different look for your diagrams.
The original diagram settings will now reside within the "Classic" theme.
Standard entity colours for entities have been removed from the entity types page within "Lists and Tags" to the Client Map settings within each theme.
You can add new themes

Date of birth / establishment - you now have option to show this within each entity on the canvas.
Added the % symbol into the relationships on the canvas and relationships area for partnerships. Just having a number didn't really give you sufficient context as to what the number represented.
Increased the vertical spacing between fields on the canvas so lines aren't quite so squashed together.
We've added the Text Wrap function into the theme settings, so you can set per theme.
Various bugs and refinements

When changing practice settings, you no longer have to press save for the changes to be saved.
Updating of ABN/ACN, TFN and Date of birth weren't pushing back to the client details upon save.
When dropping entity's or objects on the canvas, they would sometimes appear off screen. They now always appear in the centre of the current view ... finally.
Fixed some bugs around relationship direction changes and visibility options not behaving always on the canvas.
Fixed an issue in sandbox where you couldn't drop more than one entity type onto the canvas.
Fixed an issue where text was wrapping when it shouldn't due to an incorrect calculation of spacing with the bold headings.
Fixed an issue where the date was not updating upon save.
Fixed various issues surrounding the reset to defaults option not always behaving consistently
Fixed a bug where a new entity was added to the group, but not immediately appearing upon accepting the change.
For more information, check out the help file here.
Text Templates for the Correspondence Register
Very excited to be rolling out the new text templates for the correspondence register, so you can standardise the content of your interactions with your clients, whether it be a standard meeting template or a simple SMS template, you can now create consistency and time savings as you go. Think of a text template as something as small as a short paragraph "snippet" that you can layer upon each other within a correspondence register entry or something as large as a full detail meeting agenda.
New settings and options.

Template Tags - The tags are so you can easily classify a template for different scenarios. For example, templates for Meetings v's templates for SMS OR templates for new clients v's pre-existing clients. We've created a bunch for you, but you can tweak to your hearts content.



Template List - This is where you can create your own templates. We've created a few examples for you, which you can edit or copy to build out your own useful templates.



Placeholders - You can insert "placeholders" to populate the templates with pre-existing information (eg. Client name, Practice logo, User email)



Signatures - It's useful to have a standardised practice wide or user signature that you may want to include in your emails or notes. Accordingly, you can now build one up or modify the signature we've provided to insert straight into any templates you create.




New insert text template option (Correspondence Register)

You will find a new icon in the formatting bar that opens the text template select pop-up



If you hover over each template, you will see a preview of the template - then selecting the template will insert it into the current correspondence register entry.



If you've identified the applicable contact and client the record is relevant for, you will see a preview of that template with the client specific information within.
For more information, check out the help file here.
The other bits
Inter-entity loan

Where there are no transactions to show, the date range was defaulting to the full history, thereby making it hugely slow to update upon change of tab. We now default to the current month where no transactions are visible.

Equipment Finance

Fixed an issue where the transactions prior to an existing agreement date showed red crosses when a deferral has been triggered.
Fixed a bug where the GST wouldn't always re-calculate upon setting / changing of a GST code.
31st July 2020
---
This month has once again been focused around polish, bug fixing and security related matters + a few new additions to the Client Map. Here are the highlights.
What's New Webinar
User & Security Updates
As identified last month we've been doing a lot of work around the security side of things, such as:
Further encryption of integration tokens
Further refinements to the new OAuth02 integration with XPM
Session timeout fixes - so you can select a standard time out across the practice.
Re-write of the User Management page - Apart from a tidy up, this enables Practice Administrators to:

Reset 2FA for any users
Disable access (in case you temporarily want to disable access)
Unblock user accounts when they lock themselves out


Re-write of the user page

General tidy up and consolidation of similar items;
Ability to also action blocking / unblocking / reset 2FA
Most importantly the adding of full user logging.

Successful and failed login attempts + IP address and device details.
Blocking and unblocking of account
Password and 2FA resets + applicable users who triggered.
Download of client sensitive data (Client list and ATO lodgement lists)

User logging is also available across the full practice in practice settings for full monitoring


AccountKit Support & Admin logging

In the same way that users are logged within AccountKit, logging of all user actions in our admin panel has been enabled.
This also capture support requests and consequent login for every user into your own instances of AccountKit.
Client Map
The client map continues to get new refinements to give you yet more flexiblity and power to build your diagrams. New Improvements include:
Visibility and ability to change details like the ABN, ACN, TFN and Date of Birth / Establishment + quick links to the ABR and ASIC records.

Ability to switch the direction of a relationship without opening it.

Ability to remove the middle divider within each entity

Standard

Text Wrap

No Centre Divide

Centre aligned with no centre divide


Various bugs

Fixed a bug where nudging an object using the arrow keys when zoomed in moves the whole map.
Captured a few extra instances where undo/redo weren't working primarily to do with lines.
The other bits
Clients & Affiliates
Addition of the Date of Birth / Establishment field for Affiliates
Enable TFN / ABN copy for affiliates in the people search
Equipment Finance
New option to utilise the Xero tax code for interest journals; This can be set within practice settings and over-written on a per schedule basis.
Fixed a GST rounding issue on the purchase journal and upon refinance.
Cleaned up the Action Menu removing elements and renaming to clarify what some of the items do.
Enabled posting of a refinance back to the same account.
Fixed a bug where if you build a new schedule and didn't finalise the purchase entry. Overnight the automated postings would post despite the purchase entry not having been posted which shouldn't have been possible.
Inter Entity Loan
Fixed the detailed reconciliation report showing extra transactions on the right hand side of the report.
Fixed an issue where a voided entry in Xero doesn't always show up as red in the loan; A bug that crept in after the last major feature upgrades.
30th June 2020
---
Happy EOFY! My how the year has flown, it literally feels like yesterday that we last did a product update. This month has been one for polish, bug fixing and security related matters. So not all necessarily as visible as other updates, yet just a vitally important. Here's a wrap up of the highlights.
What's New Webinar
Birthday dashboard
Short and sweet - you now have a simple dashboard showing current and upcoming birthdays for clients and your team.
We highlight the event with a note to make you smile.
Then mouseover the event to get their contact details in case you want to drop them a quick email or call to say a quick happy birthday.
If you don't want to experience this cheer, you can turn it off in your user profile.

Security matters
With ABSIA looking to standardise the way software providers handle client information, they've created a prescriptive standard for us all to adhere to. While security has always been at the forefront of our minds, it is a brilliant initiative giving you greater confidence that all add-ons are being held to the same consistent standard. Unfortunately it means you don't get to see much, but rest assured that we're investing heavily to ensure we can be the best we can be. What you will see soon is increased controls to who has access to various client data as well as logging of information so you can see what people are doing (eg. failed logins, location of logins, devices used and the like).
The small things
Given the piecemeal nature of the other work completed, here's a dot point list of the areas tackled.
Client Map

Merged the Sandbox into the main client map code base. Previously these were treated separately resulting in different functionality. Now they're all part of the same structure, so the features are identical between map types.
Lots of refinements around the undo/redo functionality; This has been a little hit and miss, but this should now be a lot more robust.
Multiple fixes rolled out to address the issue where large clients maps would sometimes export to PDF with a black background. This has been a difficult bug to track down, but hopefully now all resolved.
We created a new "how to build your first client map" video - accessible through the support centre or on our website.

Amortisation scheduler

As we work towards getting this out of beta, we've done a series of fixes around the calculations and outputs associated with the current / non-current splits and the separate amortisation account and monthly / fortnightly allocations.
Fixes to the Summary Movement report.

Inter-Entity Loan

Fixed the reconciliation report; After recent changes, it wasn't correctly showing the correct values in the reconciled / unreconciled balance fields upon export.
Finalised the updated date picker.
Fixed an issue where a transaction would be marked as voided if it has changed loan accounts, but actually still included in current list of accounts for that loan (eg. changed from Funds contributed to Drawings account - both of which are being reconciled in the selected inter-entity loan)

Integrations

General DMS

Applied caching to the root folder to speed up the first load.

Sharepoint / OneDrive

Updated the logo for OneDrive / Sharepoint to the new logo.
Broadened functionality for Sharepoint to give access to other document libraries created within a site.

Google Team Drives

Update required due to API changes

Xero Practice Manager

We're in the progress of transferring from the old Workflow Max API to the new Xero Practice Manager API; This correlates with the notice you would have at the top of your XPM informing you of upcoming changes to your integrations.

Misc

ATO Import - refinements to the matching logic when importing ATO lodgement report and matching clients with partial TFN's to full TFN's + updated log entries recorded.
SMS - Fixed error when assigning SMS that have more than 200 characters to the correspondence register.
Client detail - We now show a warning if you make a change to a client then try to browse away before saving any changes.
Division 7a Tool - Fixed an issue where on smaller screens the table would wrap to the next line making it hard to read.
Equipment finance - Finance deferrals rolled out last month are now supported in the excel export.
4th June 2020
---
The team have been going hard on evolving some of our current tools. The minimum viable product is never enough as evidenced through the constant evolution of our tools. Some of our tools are up to their 5th major revision, each one bringing more features and optimisations, all with the aim to reduce friction and make them a joy to use. This month is certainly full of joy, I'm finding myself trying to make more work for myself just so I can use the updates on these tools.
What's New Webinar
Equipment Finance
With covid19 we're finding that a number of our equipment finance schedules are having payments deferred to preserve cashflow. Here's a specific list of the changes.
New one-off event for a "Simple Deferral":


Selecting this will enable you to choose how long you want to defer payments for.
It's simple because we draw a line in the sand at the point of the deferral (ie. we don't go back and edit prior periods current / non-current splits) and simply move all payments by the deferral period.
If you have current / non-current options set for your schedules, we'll adjust the current / non-current balances in Xero at the point of the deferral to reflect the fact that payments over the next 12 month period have been pushed back. If the deferral spans a financial year, you have the option to calculate and post the deferral adjustment at the end of financial year.
We have instances where financiers are offering 3 months now with the option to take up a further 3 months at the end of the first. To cater for this, you can simply trigger a second deferral immediately after the first deferral.
You can then also reverse the event if you need to adjust it for any reason.
The cashflow commitments and summary movement reports have been updated to reflect this new event as well.

Enabled the ability to generate and track 0% / principal only finance schedules;

It obviously doesn't post any interest entries, but does post assignments between current / non-current accounts.
Otherwise just updates with the Xero balance at the payment date.

Minor tweaks and fixes

Refinements to the visuals of the cashflow commitments and summary movement reports.
Fixed issue with the cursor in number fields would jump to the cents area (maddening!)
Fixed issues in the purchase area when tabbing through fields
Optimisations to the journal tool-tip to make it super responsive.
Fixed issue that sometimes the balance and status was not correct on the EF list page.
Inter-Entity Loan
The inter-entity loan tools is one of the most loved tools within the AccountKit toolkit, but it suffered from speed issues and clunkiness cross big groups. Our friends at BDO highlighted that they needed some more assistance when dealing with large client groups. This update brings a whole bunch of joy to the reconciliation process all over again!
Massive optimisations to the reconciliation, journal copy / posting, change loan process - all interactions are much, much faster now!
New Summary tab for a single view of all loans within a family group:

You can create new loans direct from the summary tab.
If there are more than one loan between entities, you can view all the associated detail for each loan and click straight through to the underlying loan.
Hover over loans to show their description

Quick search and change to other loans within the group.

Show other entities within the group without loans or Xero connections, both of which can be initiated from the summary tab.


Quick change to other family groups

New date picker with shortcuts to get to standard dates quickly

Persistence of the date range carrying from the summary and list page through to the underlying schedules upon open. ie. If you set the balance at date on the list page to 31/03/2020, when you open a schedule, it'll open to the same date.
Update to the narrations posted into Xero to include the name of the entity the entry had come from and other tweaks to narrations for great visibility within Xero.

Fixed a bug where sometimes a posted entry would come back immediately red. Although in rare circumstances we're still seeing this appear at times. We will continue to assess.
Miscellaneous Items
Amortisation Scheduler - fixed an issue where the first apportionment would not apportion correctly.
Client Map - made the snap to object default to on; Previously schedules defaulted to this being offer, which made people think the ability to snap to the centre of objects had been removed. It's the most used option for building diagrams, so made sense to make it a default. Our bad!
Consulting tools (Early home loan repayments, loan calculator etc) - various improvements to the number fields and PDF outputs.
4th May 2020
---
Another month of isolation and another month of change across a multitude of areas within AccountKit. The name of the game is polish and usability; Sometimes we have too many clicks or we're waiting too long whilst doing our day to day, ultimately making elements feel just a little too clunky for our liking. This will be an ongoing theme for the coming couple of months
Webinar recording for the What's New Webinar for April
Client Map
The team continue to work hard on anything and everything to make the Client Map tool more streamlined and user friendly. We acknowledge there's a lot to it, so anything we can do to make the creation of maps easier is our focus.
Update the colour picker to handle custom colours associated with each map + optimisations to speed up its use.
Relationship updates as a follow on from the client detail relationships expansion last month.

Broaden support for the new unitholder relationship type and descriptor across the entities on the canvas along with historical and proposed diagrams. ie. enables options like "Class A Shares" "Hybrid Units" etc.

Enabled changing of direction of relationships after creation (upon doing so, it deletes and recreates the relationship in XPM - the API doesn't allow a straight change)
Changed the default direction of relationships to something more intuitive.

Enable some new abilities for getting around the canvas more easily & manipulating objects

Zoom now zooms in where the cursor is, rather than the top left corner.
Holding the space bar enables you to drag / pan the canvas across, rather than using the scroll bar

New grouping ability, you can use the new options (+ keyboard shortcut <g>) to group / ungroup any objects on the canvas. This is a another way to group, as opposed to the more visual method via the "Group Outline" box.

New Layouts Menu to replace the "grid and alignment menu" to house the new snap to options (accompanying the snap to grid) - it's also super slick and fast now.


Snap to objects - this enables you to snap to the centre or edges of any objects (it defaulted to snap to centre only previously)
Snap to spacing - this enables you to snap an object directly between two other objects ensuring your spacing is just right.


Updated shortcuts for:

Send forward <f> for when an object is behind another.
Send backward <b> for when an object is in front of another.

We've polished the visual experience a bunch as well:

Better handling of smaller screens down to 1024px wide.
Fixed width for side menus
Full screen mode now always perfectly fills the screen, so no more accidental scrolling of the page.
Inter Entity Loan Tool
The inter-entity loan tool is one of our most used tools, yet suffered some speed and reliability issues which became increasingly apparent as the usage increased. So we've spent a bunch of time on speeding up various elements + resolving behaviour that detracted from the joy one experiences in using it.
Updated the copy coding function to enable proportionate copying of values across journals. So for example, if you have a bunch of amounts you want to split between two drawings accounts, you simply split the first entry and all other entries will be split in the same proportion.
Optimisations and usability tweaks to various elements

Full IEL list page loads much faster now.
Loading of the journal pop-up and entries within also much faster and more reliable.
If you're tabbing through a journal and split a value, it will automatically create a new line with the balance left to reconcile the journal.


Fixed a bunch of bugs as part of this refinement process.

The status wouldn't update when changing the balance check date from the full list page. Caused in balance schedules to show out of balance when in fact they were.
Quickpost was failing at times with a no account selected error.
Opening balance and general adjustments options were failing with Xero_TaxRate error at times.
Miscellaneous
BGL & NowInfinity integration refinements

Changes to the layout of the exceptions page along to make it easier to use and much more responsive;
Refinements to the matching logic between systems increasing the likelihood of matches being made.
Where matches are found, we auto-update the ABN and ACN records if they're missing including pushing the update into XPM for those fields.
Specific to BGL, we've rolled over to their new API endpoints.

Xero integration refinements

You now will receive a message if you try and connect a Xero organisation to another client entity. If you proceed, it will disable the other connection and invalidate any tools utilising that connection.
When triggering a sync update from the context sensitive menu, you'll get a spinner showing that it's in progress.
Division 7a

Added information icons for variable fields in settings to make it clearer about each of their functions.
Equipment Finance

Revised Summary Movement Report to new format for ease of preview before outputting to PDF and now Excel as well.

Enable changing of interest accounts after journals have been posted. While you can't change the liability accounts, here you can at least change where the interest entries are being posted to at any time.
Sometimes would show out of balance in certain circumstances with irregular schedules.
If you change the account settings, or in some other circumstances you would no longer be able to edit any irregular schedule lines.
If we receive a "wait" command from the Xero API whilst voiding entries, the entries would be cleared in AccountKit without actually voiding in Xero.
Other updates

Fixed a bug where a merged contact back to it's underlying client would unmerge upon sync back from XPM (which kind of defeats the purpose of merging them in the first place).
Fixed a bug on the various consulting tools (early loan repayments; compounding calculator) where the cursor would jump to the cents area whilst typing, which was tremendously frustrating for all.
Updated the "bulk update" tool within the client list action menu to enable assigning or removing practice authorities for "Prepare Tax", "Prepare BAS" and "Prepare Annual Review"

Various refinements to the number fields within the consulting & other tools which sometimes had odd cursor behaviour which made them painful to use. (eg. If you paused whilst typing a number, the cursor would jump to the end resulting in an incorrect entry)
31st March 2020
---
The world is a substantially different place to where we were a year a go. But despite the team going into isolation, it hasn't stopped them from creating some beautiful work this past month. Here are some of the gems:
New Colour Picker
The old colour picker was ugly and too manual in it's execution - the new picker is beautiful and highly functional!
You have access to a full rainbow of standard colours for using every day
You can set custom colours within practice settings that are available across the whole practice (of particular use in the client map)
Within the client map you can (soon) set custom colours that are applicable only to that particular map.

Client Map
The focus here is primarily around the text boxes used within shapes and icons to reduce the clicks it takes to edit them and provide more functionality.
PLEASE NOTE: The changes to the way text boxes work will at times move the text a small amount from their original position. So prior diagrams will need to potentially be tweaked a touch where you've used them before.
Roll out of the new colour picker per above.
Double click now opens and focuses any cursor within the text box
Double click any object opens up it's applicable settings.
Replaced all icons with clearer visuals at to what they represent.
Added ability for shapes to have dashed borders
Changed the text box associated with icons to be more flexible; You can drag them around now and change there appearance independent of the icon.

Client Relationships
Something we've been asked to handle for some time is the ability cater for unitholders and different share types. Finally we have a solution for you!
New system default relationship for unitholder;
Upon setting the unitholder relationship, you can define the number of units which then creates a "beneficiary" relationship within XPM (since unitholders aren't supported in XPM). The number of units of course don't feed back to XPM.
You will also now be able to add a descriptor to company shares and unitholdings thereby being able to add more detail to different holdings. eg. 100 shares issued @ $1 each; 100 class A shares etc.

Xero Sync Refinements
Given the volume of data we're downloading every day, we've done some significant changes to the process as follows to speed it up and better communicate what is happening.
The new sync process is nearly twice as fast as the old method. This is being rolled out in stages across subscribers over the coming month.
We've created a new context sensitive menu that shows you the progress of how your sync is going when you select the orange Xero icon.
When you are returned to AccountKit after authorising a sync with Xero, you will be returned back to the same page with the new context sensitive menu open
Added a new system filter in the client list page to filter by all in-progress syncs.

When the sync process is completed, you'll now get an email to let you know.
Misc
Inter-entity loan

Optimisations to the list and detailed page
Fixed a bug where unreconciling an entry wouldn't then void in Xero
Fixed a bug where the notification of what has changed on a red transaction wasn't appearing.
Removed the rounding to the totals on the IEL list page.

Division 7a tool

Fixed a bug where doing a top-up dividend on an initial year incorrectly added this again to the opening balance (didn't impact any calculations though)

Correspondence Register

Fixed an issue with Gmail changing the way they handle cookies resulting in authorisation failures.
Fixed an issue with the contents of an email would alter the appearance of the whole correspondence register.

Other

Added masking to phone numbers to make numbers more readable.
Optimised the way DMS data loads on the Client Group page.
Re-worked the retirement, early repayments, compounding and simple loan calculators to correct some issues with icons and number entry fields.
5th March 2020
---
Onto the third month of the year already, here's what we've been up to during February.
Loyalty Discount
With the Division 7a Tool and Amortisation Scheduler coming out of beta soon, we want to reward our loyal customers who are switching on and engaging with more of our tools. As of this last week, the loyalty discount will automatically apply as you add tools via the practice administration page.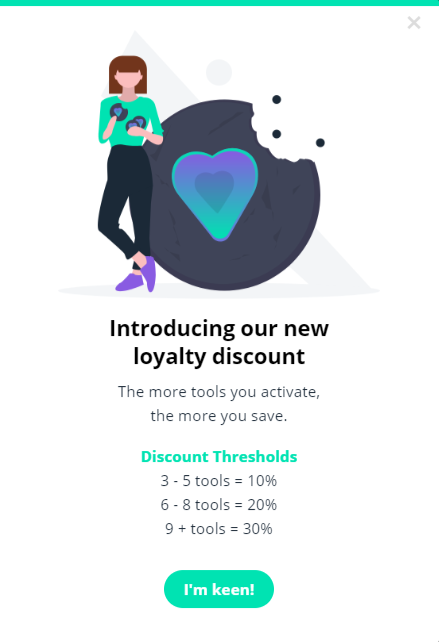 Franking Account Register
With the introduction of loyalty pricing, this tool is being turned on and tested thoroughly, so we needed to give it a bit of TLC:
Optimised it massively - was slowing down when you had hundreds of lines
Introduced pagination to split between mutliple pages - sorts to last page;
Refined Auto-save
Link to client from the company name
Unified the register with the client group page to have of the same functionality.
Various other visual tweaks.

Division 7a Tool
As we gear up for releasing out of beta, we're doing a last push to add a few more useful features:
Squashed various bugs that had surfaced including a particularly heinous one where a reset of a top-up in future years cleared a prior years top-up, which then changed all your calculations. Eek!
Added a compare balance option within the summary tab so when we're checking if in or out of balance, you know what year we're looking at.
View closing balance when adjusting your dividends to see the impact they're having; In doing so, it recalculates interest as part of the adjustment
Auto-payout - because the interest adjusts when doing a top-up to the dividend, we've added a button to calculate the payout figure for you. No more guessing, tweaking, reviewing ... repeat!

Client Map
We've brought refinements back onto the table, as it is yet to bring me joy whilst using it; Often people would save and lose information, which is not good enough:
Introduced new Auto-save and manual save history; Now if you accidentally close the diagram or it has an issue saving, you can go back to a historical version to restore it... yay!
Ability to send objects forward and backwards if they fall behind other objects
Ability to immediately edit text on objects and have it show up immediately - cutting out at least 3 clicks per edit.
Fixed a myriad of bugs

If objects made transparent, they'd sometimes turn black.
Copy, paste and undo sometimes messes up alignments of text.

Miscellaneous Updates
Beyond the big things, there are often many little tweaks that all start to update when you put them together, here's a list of the small things...
Xero Sync - Massive optimisations to double the speed for those large xero organisations that have millions of lines of data.
Twillio - Fixed bug where Twillio messages that were too long either failed or generated an error.
31st January 2020
---
Despite the Christmas break, the team have been working hard to extend AccountKit with some brilliant new features. While they're not new tools, they bring some new efficiencies in the way that we interact with our clients and document management systems.
Client Notes Register
Sometimes you need a permanent note on record for a client / client group that all team members need access to while carrying out their day to day tasks - for example "All invoices to be sent to accounts@blah.com". The client note register is about saving these in the one place, which can be shared with other clients and referenced in tools like the mail and correspondence register and the client detail pages.
Here we can see client notes within the client detail page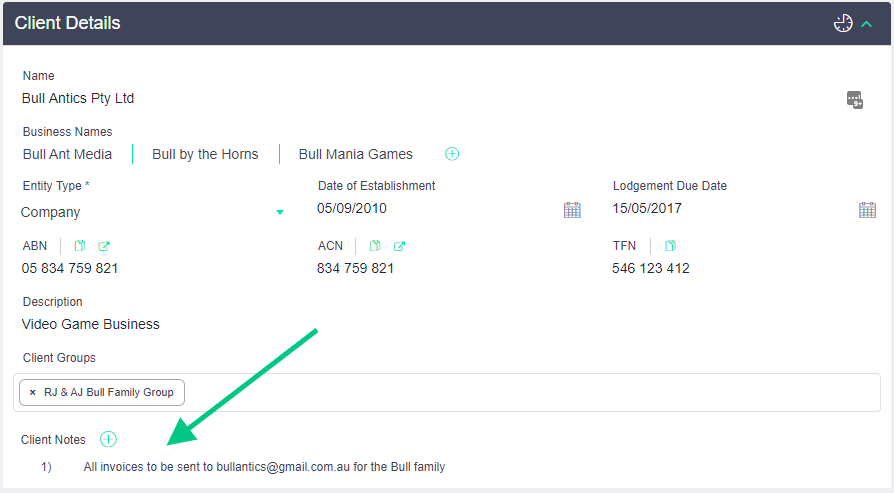 Then those same notes can be reviewed, added or edited within the mail register (or correspondence register)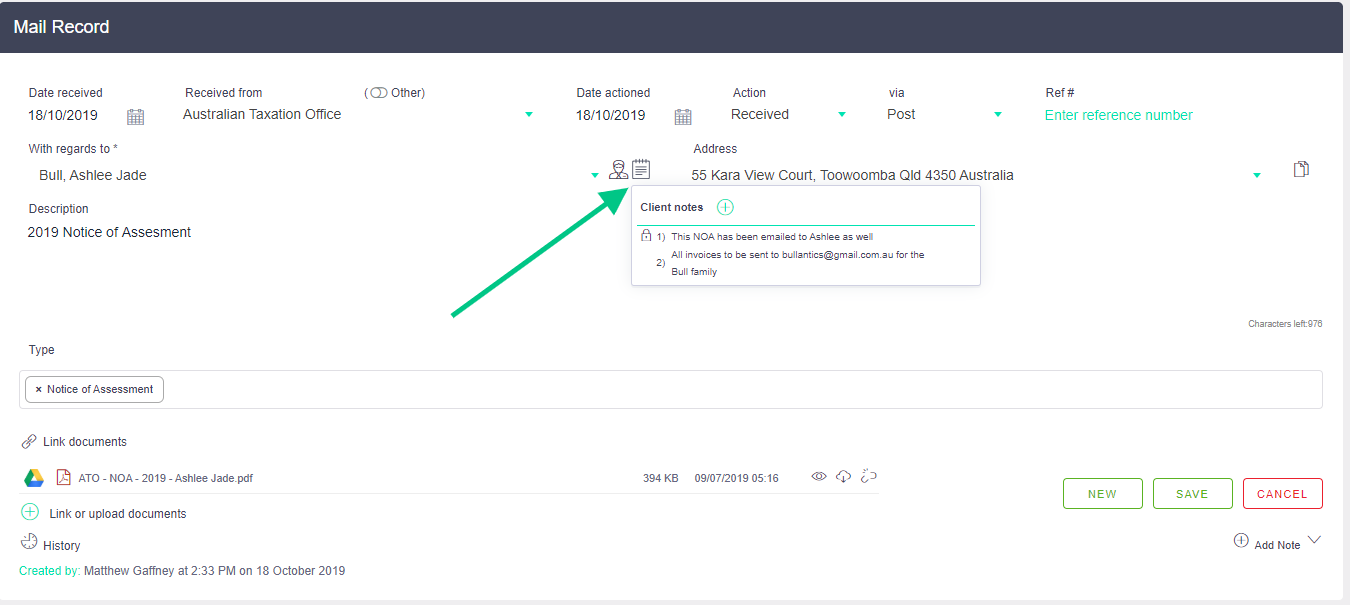 Document Management System Updates
If you have a document management system integrated with AccountKit, you now get a context sensitive menu when you click on them. This gives you the ability to click through to the underlying client folder within the DMS itself or open a file browser window where you can set your default folders, upload files and the like.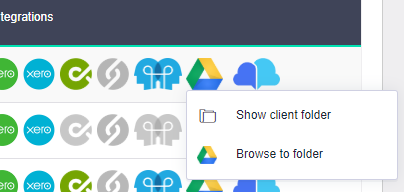 You also now have the client's folder contents available at your fingertips across the client group and detail pages without even having to leave AccountKit - upload, download, preview as if you have the DMS open right there!
This is showing it in line with the Client Detail page under the integration area.
Where-as this is showing all the client folder structures for a whole family group in the one view - no more jumping between folders looking for files.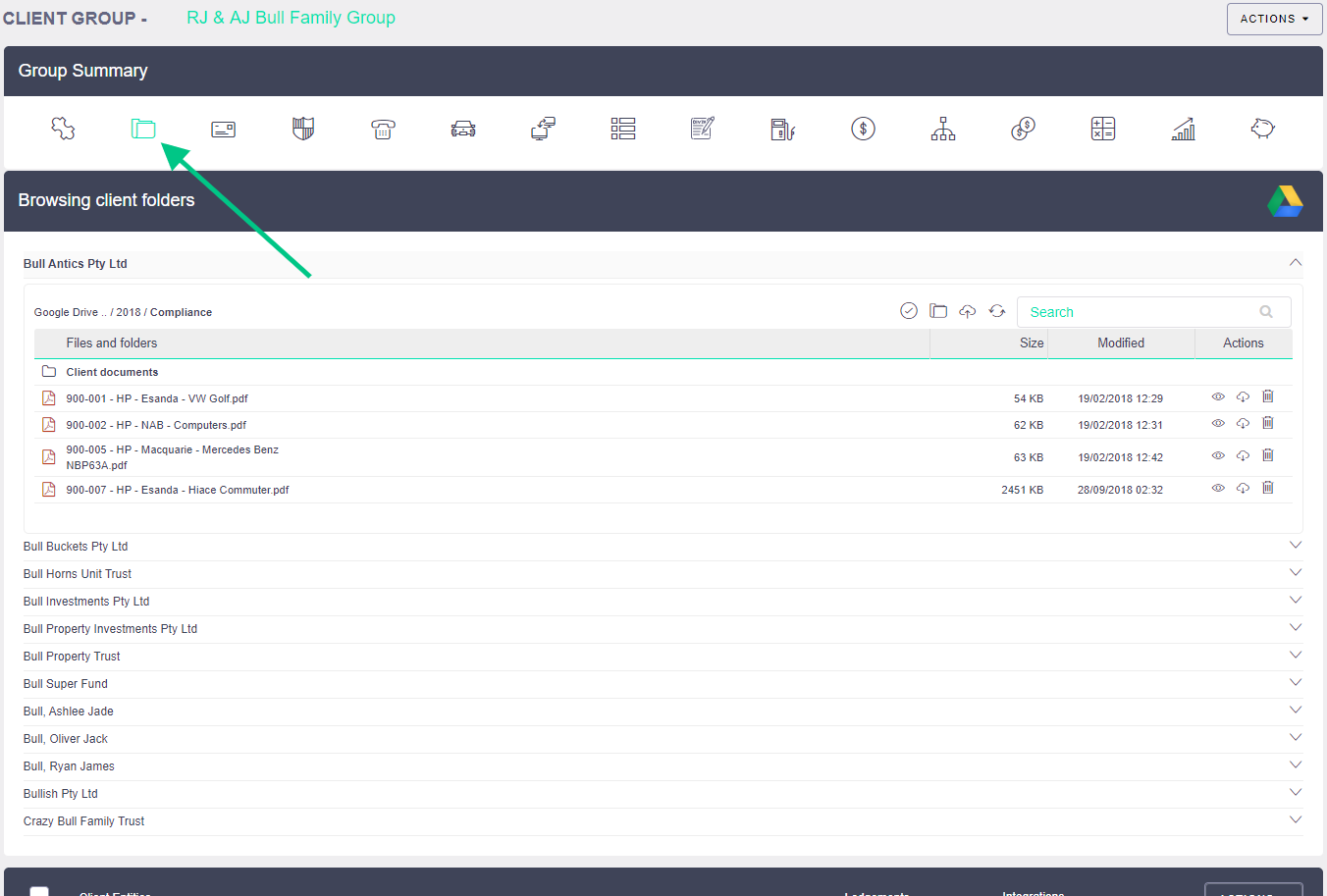 Other bug fixes and refinements
Equipment Finance - New "Add account" button; You now don't need to go into Xero to establish new accounts for new equipment finance schedules that you setup. You can do it all direct from the schedules themselves.
Client Map Tool

New trashcan icon for deleting of selected objects. It can be used any time, but most useful when on a touch device where there is no delete key.
Various extra software logos added
Fixed random lines appearing in free draw mode when doing broad sweeping lines.
Fixed bug where the line defaults weren't flowing through from practice settings

Professional Development Register - correction to date format not showing correctly in some instances.
See Here for previous release history