---
AccountKit makes a series of distinctions about the people you interact with on a regular basis. This article explains the differences and how you can manage this important part of your practice. You can access this section through the logically named "People" heading from the main menu.
Jump straight to the applicable section:
Client / Prospect / Affiliates / Contact List
---
AccountKit breaks the entities you interact with into 4 distinct types and a grouping thereof.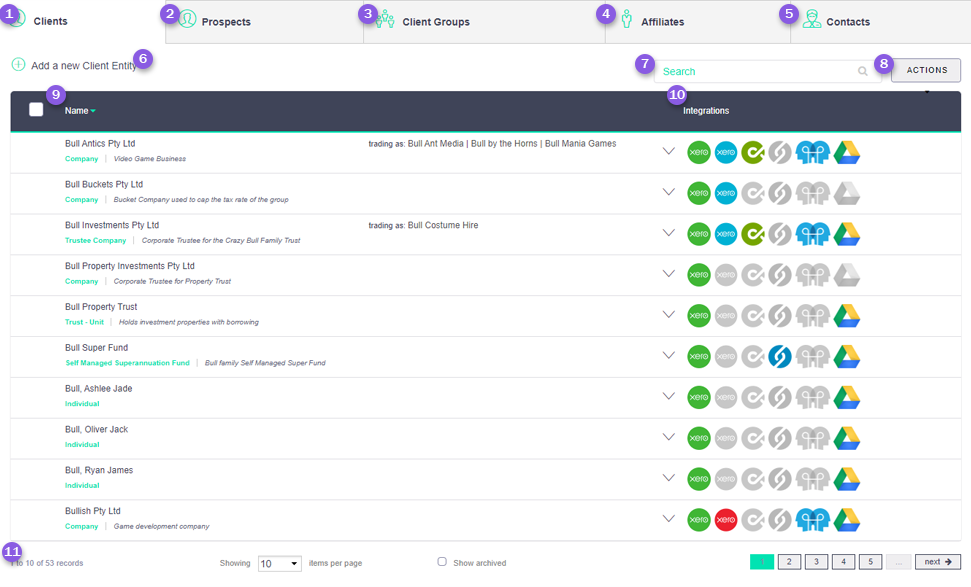 People Tabs
Description

1

Client Entities
This is clients you're currently actively engaged with, whether it be compliance work, regular consulting or ad-hoc advisory. These clients are made available to all toolsets within AccountKit.


| | |
| --- | --- |
| i | The classification of an entity within AccountKit is extremely important as it defines the subscription your practices operate within. The subscription model counts all clients within the "Client Entity" tab, being those you're actively engaged with, but ignores those within Prospects, Client Groups, Affiliates, Contacts or those that have been archived. |

2

Prospects

These are potential leads for new clients. They have access to a limited subset of the tools but provide an opportunity to still provide some preliminary advice without inadvertently pushing your practice into the next subscription group. Upon successfully winning the client, you should open the client and re-assign the practice type to make them a normal client entity with full access to all tools.

3

Client Groups

The client grouping area enables you to group clients by elements they have in common. For example, a grouping most commonly would be formed by family and related entities, but can also be used to group by other elements, such as location, industry, team or manager

4

Affiliates

They can be used for recording contact details for non-clients that are then attached to clients or used in conjunction with various tools with current active clients. They are limited though, in that they can't be utilised in any tools in their own right. Some examples of affiliates include:

Individual and entities that aren't clients, but are required for making reference to with regards to your clients – for example, an unrelated investment trust who own units in a clients unit trust.
Businesses you regularly interact with, such as your local post office, banks, mortgage brokers or stationary provider.
Government bodies such as the ATO and ASIC.

5

Contacts
A contact is very similar to an Affiliate, but with the key distinction being that you can't use contacts within structure diagrams. But they can be connected to any of the above types. Here are some examples of contacts in use:

A bank manager with a bank identified as an Affiliate. This person can be connected with individual clients and the bank affiliate.
A sole trader bookkeeper who works for a number of your clients can be added as a contact to each of them.
Your Options for this tab
---
All tabs have the option to add a new entity to the current tab. Upon setup, you can always select the entity to edit the practice type should you accidentally put them into the wrong area.

People Detail
Description

6

Add a new...
All tabs have the option to add a new entity to the current tab. Upon setup, you can always select the entity to edit the practice type should you accidentally put them into the wrong area.

Simply select the Entity type from the list available and enter the legal name for the entity and press save to create the entity and enable entering of the rest of the applicable details.



7

Filter & Search

Advanced Filter: Select the icon to open the advanced filter list and options;

See here for more details.

Quick Search: Select the icon to open the quick filter dialogue; Used to find a client quickly. This particular filter you just have to start typing for it to start to filter. No need to press <enter>.



See Filter / Search for more details.

8

Actions Menu
The actions menu gives you all manner of functions that you can complete in relation to the clients on the list.

See the Menus & Shared Elements page for more details on the items within the action menu.
The Entity List...

9

Name
Defines the legal name and structure associated with that entity. Pressing the arrow on the right expands and shows some of the core information about that client, such as their date of birth, TFN, phone numbers and addresses. Selecting the name will also open the entity to see all of the applicable detail with the ability to edit as required.

10

Integrations
This area gives a quick snapshot of applicable integrations (eg. Linked Xero file) along with the ability to make the connections. Also, shows the default folder for the particular client for each connected DMS

11

List Footer
This is found at the bottom of every register or list within AccountKit.

See the Shared Elements page for more details.
| | |
| --- | --- |
| i | This is a list of all available fields; The Affiliate and Contacts tab hide a number of these fields. |
Client Group List
---
The middle tab contains a list of all groups within the practice, giving a snapshot and quick access to various elements of clients grouped under various different banners such as family groups or industry.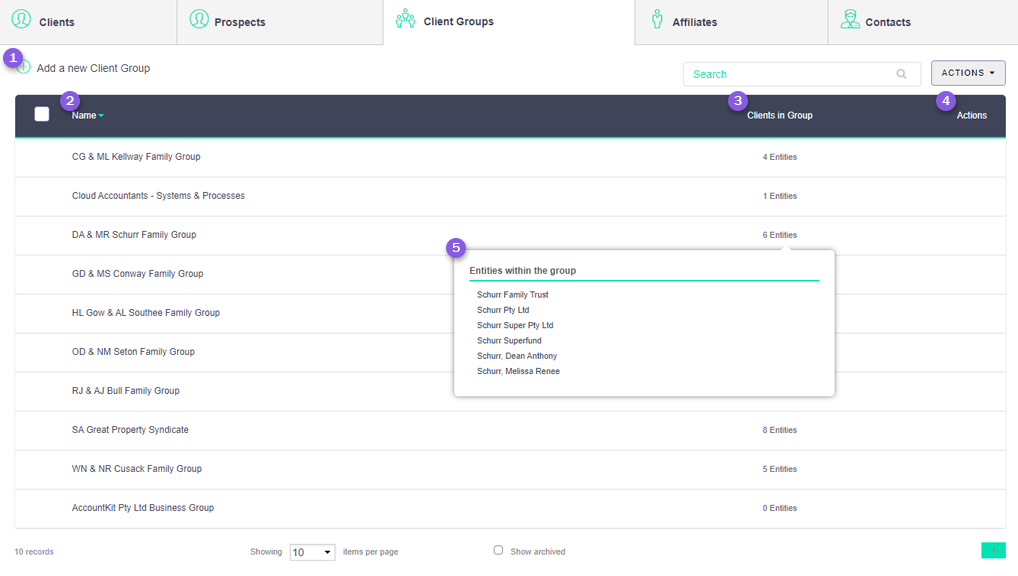 Heading
Description

1

Add a new Client Group
This is where you'd go to add a new Client Group.

2

Name
This is the group name - select the name to open the group for a detailed look at the group.

3

Clients in Group
This column identifies the entities that have been assigned to this group. Click on the number for a pop-up that shows the applicable entities within the group.

4

Actions
Presently this action only enables you to edit the Group Name.

5

Entities popup
When you click on the entities number, you are presented with a quick list of all entities within the group. Each of these are a quick link direct to the associated client.
Client Group Detail
---
When you click through to a client group, you're presented with the following information - a snapshot of everything that's happening in regards to the group selected.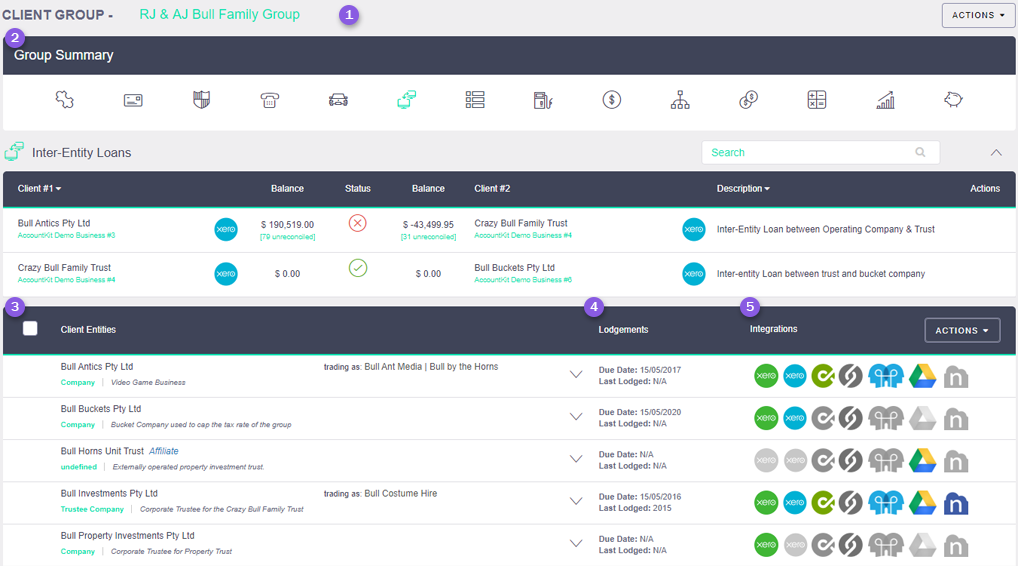 Section
Description

1

Client Group
This identifies the current group you have selected.

Select the group and type to select an alternate group that you would like to view.

2

Tool View List
By selecting one of the applicable tool icons, a list of all related client records will expand in line for you to view and edit if required.


3

Client Entities
This is a list of all clients within the group. Click on the group will expand and show you client specific details such as the address, email or contact details.


4

Lodgements
This column identifies the due date for the current year tax return along with the year the last return was lodged.

5

Status
This identifies the status of any integrations in relation to this client.
Filtering Your Client List
---
Sometimes it's useful to be able to get to a specific subset of your client list without having to export and collate in excel. This is where the flexible filtering system comes to the fore.
To utilise the filter, simply select the

icon where you are presented with some options: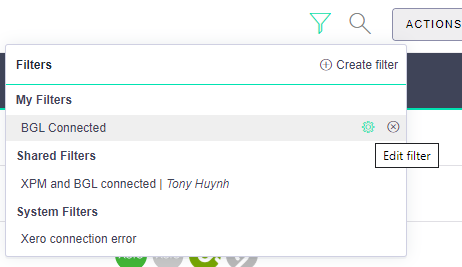 Using the Filter
Applying a filter from the filter list - Simply select from the options in the filter list

My Filters - These are filters saved by the current user, visible only to them.
Shared Filters - These filters are those that have been made available to all users at the point of saving a newly created filter. Only the user who created the filter and Practice Administrators can edit it; Other users can utilise them, but otherwise if they want to modify them, they can elect to "Save as" a new filter.
System Filters - These are filters that are provided to all users by AccountKit and can not be edited or deleted.



Create filter - used to create a new filter

Simply select the (+) Create filter option
Add each of the applicable filter criteria.
Press save, give it a name and identify whether to share with other users.




Editing a pre-existing filter

Select the cog to the right of the filter in the filter list; OR
After selecting a filter from the list, click on the filter name to show the details
Press

[SAVE]

to overwrite the current filter or [SAVE AS] to save as a new filter.




Editing a pre-existing filters name

Open the filter for editing per the instructions above, then select the name to edit it inline




Clearing an applied filter

Select the cross that appears to the left of the filter name

Other uses for the filter
The filter is a great way to get to specific information about a client, but what do you do with that filtered information:
Export to excel via the Actions menu - from here you can manipulate ready for importing into other software, or providing to a client for review.
Get a quick look which organisations are connected to Xero
See which Xero orgs have a broken connection, then reconnect them.
Eventually you will be able to utilise these lists for doing things like pushing a client list into something like MailChimp for marketing purposes. We will announce when this is possible.
Merging Clients & Contacts
---
Sometimes you're going to find you have duplicated clients and contacts which makes it difficult to keep client data aligned. The best way to manage this is by merging them back to a single client/contact record.
| | |
| --- | --- |
| i | We recommend that any changes to clients happen within AccountKit, especially where dealing with contacts that are duplicates of clients in XPM. If you merge a contact to contact OR a contact to a client in AccountKit, we maintain a many-to-one relationship - ie. One client or contact record can link back to a myriad of client and contact records in XPM. If you change a contact or client record in XPM, this can break the merge and separate the client and contact records all over again. |
How do duplicates come about in the first place?
Before you merge records, it's worth understanding how the duplicate has come about.
User creates a duplicate in an integrated piece of software;
User creates a duplicated client and ignores the error at the time of creation.
Integrated software requires or creates a duplicate. Eg.

Xero Practice Manager will often end up with contacts who are also clients due to the way integrations work with it)
If you merge a client in Xero HQ from a Xero Blue to a Xero Practice Manager client, XPM will delete the client in XPM and recreate it, which then archives the client in AccountKit and creates a new client.
What does merging do and what are its limitations?
Before you merge records, it's also worth understanding what happens in the background and what the limitations are.
What does a merge do?

It copies all client data from the selected clients/contacts and copies it into the "merge-to" client/contact.
Where there is information in a field already, it keeps the data of the client/contact being merged into. Where it's blank, it'll bring in the data from the "merge-from" client/contact.
Any tool schedules associated with the "merge-from" clients/contacts will be move to the "merge-to" client/contact.
Limitations of the merge.

You will lose all history of changes that have been made to the "merge-from" clients/contacts.
You can't merge two entities that are both connected to Xero; The "merge-to" client / contact should be the only entity connected to Xero before attempting to merge.
As mention above, if you're integrated with XPM, any changes to clients or contacts should occur within AccountKit. If you change data in XPM, it will unmerge the contacts/clients meaning any changes will need to be rolled through each client and contact record in XPM.
How do I merge clients / contacts?
Go to clients or contacts and filter for the clients you're looking to merge.

Select the clients or contacts that you're looking to merge / remove; (noting if they have different contact details, you may want to consider not merging together)
Go to the action menu
Select the merge option.




Type the name of the client / contact you want to merge to.

Those that you've already got selected will be in italics and won't be selectable.
Select the appropriate client or contact and press the Merge button




If you now check the applicable client or contact:

You can see that their record is now connected to multiple entities.
Any change to that client, will now update the underlying contact records within XPM.

Related Links
---