Two-factor authentication (2FA) simply put, adds an extra level of security to the conventional username and password-based log-ins.
| | |
| --- | --- |
| i | Please Note: 2FA is now mandatory for all Australian AccountKit users. If you should experience any log-in issues please email support@account-kit.com |
Jump straight to the applicable section:
What is 2FA & How does it work?
---
2FA is an increase in security for your log-in protecting your data against unauthorised access.
Two-step authentication combines your username such as your email address and password with a randomly generated authentication code created by an app on your mobile device.
If you don't have access to your authentication app, there are other ways of accessing your account through various other security checks.
The 2 Factor Authentication App
---

Here are three options for authentication apps when setting up 2FA. Google Authenticator & Microsoft Authentication both for mobile devices and Authy which is a desktop version. Each staff member will need to download one of these apps on their mobile device and or desktop and follow the instructions to set it up. To download the authentication app click your applicable device link below then keep the Authenticator App handy and continue to the next step.
Setting up 2 Factor Authentication for Existing Users
---
| | |
| --- | --- |
| i | Please Note: As of 1st January 2019 existing clients, who have not already activated 2FA and are logging in for the first time since 1st January 2019 will be redirected to the 2FA set-up screen. |
Step 1: Using your downloaded authentication app scan the QR barcode that appears on your screen and click 'Next'
Step 2: Input the code that appears on your authentication app into the space provided on the setup screen. Click 'Next'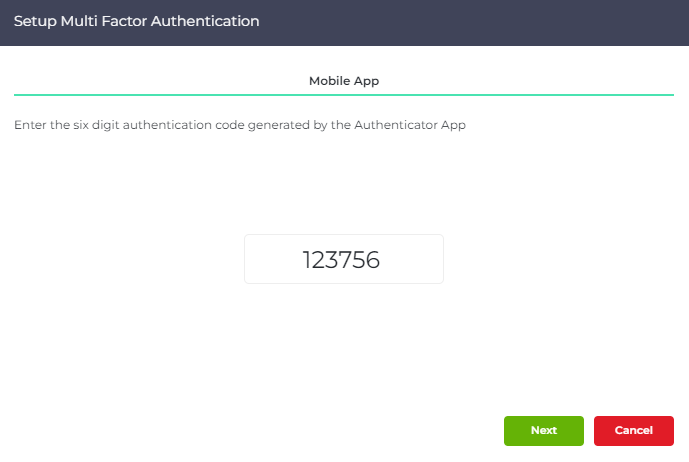 Setting up your Recovery & Alternate Access
Recovery Security Questions
Step 3: Select 3 alternative security questions and input the answers to those questions into the space provided on the screen.
Alternative Email Address (Optional)
Step 4: Input an alternative email address and click 'Next'. An email will be sent to your chosen address with a code that you must enter into the space provided on the screen.
SMS Access (Optional)
Step 5: Input your Mobile number and click 'Next'. A text message will be sent to your phone with a code that you must enter into the space provided on the screen.
CONGRATULATIONS! Your 2FA setup is complete! 🎉️

Logging in Once Set-Up
---
Once you have set up your individual 2FA you will be required to enter in the randomly generated code given to you by the Authenticator app on your phone each time you log in.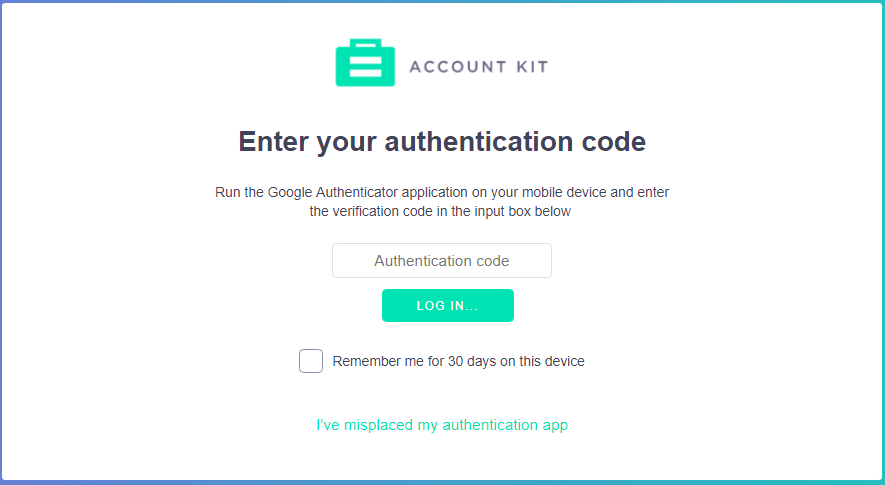 | | |
| --- | --- |
| i | You have the option of entering the code every 30 days by checking the box on the login screen. (This is not recommended as it reduces the security on the account) |
Making 2FA Mandatory (Non-Australian users only)
As of January 2019, 2FA has been made mandatory for all Australian users, however, outside of Australia, the laws are different therefore 2FA is optional. We strongly recommend, however, mandating 2FA within your practice to increase security. To set up mandatory 2FA for your practice you will be required to have 'practice admin' privileges.
Go to 'practice settings' and scroll to 'System Settings'. Toggle 2FA for all users.

| | |
| --- | --- |
| i | Please note: Once your country is selected within practice settings it cannot be changed for security reasons. If you have selected Australia by mistake please contact Support@account-kit.com (We will have to verify your residence) |
Disabling 2FA
(Non-Australian users only)
If you are outside of Australia and no longer want to use 2FA, the process to disable the account is as follows.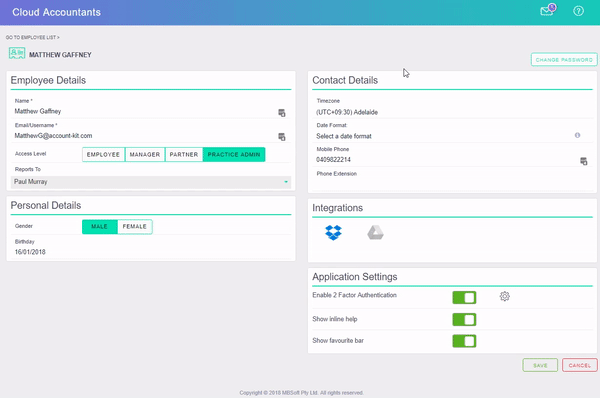 The process to disable 2FA for your own profile (if not mandatory) is as follows:
Go to your name in the top right of your screen and select 'My Profile'
Scroll down till you see 'Application Settings'
Click to toggle next to "Enable 2 Factor Authentication"
You will be shown a warning message asking if you are sure you want to disable 2FA click 'turn off' if you are sure.
Frequently Asked Questions?
---
See below for resolving various common issues in relation to 2FA.
How do I change my security questions for 2FA?
To change your security questions you will need to scan your barcode again and input a new code. Go to your 'name' click 'my profile' and click on the

icon next to the 2FA toggle. This is will bring up the Authentication process again.
What do I do if I don't have access to my mobile device?
If you don't have access to your mobile device select the 'I've misplaced my Authentication app' link at the 2FA login screen which will direct you to the alternative security page to answer your security questions to log in.
My Authentication code is not working and I'm sure I've entered it in perfectly?
We have had a few instances where our clients had issues with Google Authenticator when setting up 2FA. The most common reason for this can be that the device time was incorrect or out of sync.
Android Device - https://goo.gl/4vFbSL
Apple Device

Head into Settings -> General -> Date & Time
Turn off "Set Automatically"
Turn on "Set Automatically"
This should now have resynced the time and you should find that that the authenticator output should be correct.

Other potential 2FA login issues - https://goo.gl/XKQRhi
Here is an example of a possible error.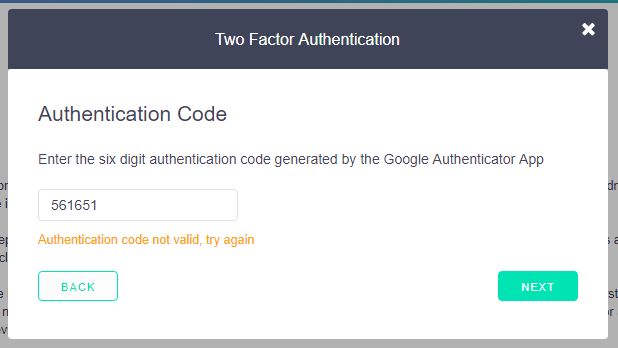 What do I do if I don't have a mobile device at all?
No problem. There is a number of authenticator applications (free and paid) you can download to your desktop which works in the same way as Google Authenticator. For example, Authy is one option;

Download Authy desktop app or get the extension from the Chrome store. Follow the instructions from their website on how to set up and use the application. Generally speaking, the process is similar to the setup process within AccountKit.
Alternatively LastPass Authenticator is another great option.
https://support.lastpass.com/help/lastpass-authenticator-lp030014

What happens if I have too many attempts at the security code or security questions?
Failing to enter the correct code 3 times will require you to use your security questions. Failure to enter in the correct security questions will result in your account being locked down.
What do I do if I lock myself out of my account?
You will be required to contact support@account-kit.com to verify your identity.
Related Links
---