Summary
---
Before we start the setup process, lets start by first jumping into the Workflow Task
Getting started with AccountKit
that we've created for you within AccountKit. That way you can keep track of the progress as you work your way through the detail. Awesome right? 🤓
Jump straight to the applicable section:
Step 1 - Update practice settings
---
Most importantly, lets customise AccountKit to make it feel like it's truly yours and an extension of your business. You spend a lot on your brand, so we want to be reinforcing your brand at all times to your team and clients.
Once again head back to your Practice Settings under the user menu. We've outlines below what you will find in each tab.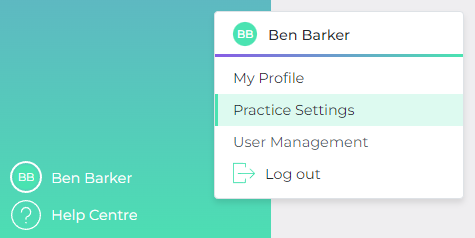 Tab 1 | Practice Settings is where you update key information about your practice, from contact details, to branding and security settings.
Start by bringing in your logo either in PNG or SVG (perferred). The less whitespace around the logo the better.

Then customise your colours until you have something you love. These update in real time, so you can keep playing until you nail it.

If you're having trouble getting your branding to look how you want or need help with your logo upload, send them to us and we'll have a professional graphic designer prep your logo and colours for you as part of the setup. Just email your logo and branding to
See here for more detail about your Practice Settings.
| | |
| --- | --- |
| i | Of particular importance, is to ensure your time zone is correct. Since this sets the date stamp on any interactions with AccountKit. |
Tab 2 | Subscription Settings: Beyond setting the billing email address, feel free to give this area a skip at this point, we will remind you when your free trial is nearly over. At which point if you choose AccountKit you can enter your payment details in this section.
Tab 3 | Integrations: Here is where you can setup your various integrations with is broken up into 3 areas - Practice level integrations, (XPM, BGL & Now infinity), Communication integrations & DMS connections. We cover this at Step 4 below.
Refer to our

integrations

help page for further details or

here

for more detail about the integrations tab.
Tab 4 | Tool Settings: Here is where you can modify any settings relating to tools and is broken up into 4 sections. General - Tags, text templates and business types. Administration, Compliance & Consulting - each of these relates to each of the various tools contained with each group.
Give these a skim with the required team members to ensure the tool setting defaults have been setup correctly to align with the practices way of doing things.

See

here

for more detail about your Tool Settings.
| | |
| --- | --- |
| i | Make sure to check the Business Types within the practice settings. We setup some types based on those from the ATO, however, if you setup your own in XPM you will need to associate an ATO type to each of those business entity type. |
Tab 5 | Practice Registers: Here you will find access to some simple audit trail reports
User History Register - shows all login / failed login attempts / client list downloads, password resets and the like.
Client History Register - shows all changes to all of your client data.

Practice Address Register - shows all registered addresses and which clients they've been mapped to.
See here for more detail about your Practice Registers.
Step 2 - Add Clients & Groups
---
Now we need to get some clients into the system so you have something to play around with. There are several methods to add clients into AccountKit, lets explore each of the methods:
Method 1 - Sync Xero Practice Manager
If you don't have Xero Practice Manager (XPM), you can skip to method 2. For more information about the XPM integration, review the associated help file here.
Head to your Practice Settings

Selecting your Name in the bottom left of your screen.
Then select Practice Settings




Click on the integrations tab

Hover over the XPM integration option and select the 3 dot menu.
Select the Connect option where you will be taken to the XPM authorisation page.
Enter your XPM login details and confirm to authorise the connection.
You will be returned back to AccountKit with the sync commencing in the background.
NOTE: At times the re-direct within XPM won't take you to the correct page; To overcome this, simply log in to XPM first, then re-attempt the connect from within Practice Settings.



Wait for your data to sync - Depending on the size of your client base the first sync process could take as little as 30 seconds or as long as 10 minutes. While you wait for this to happen you can explore AccountKit or continue with the other settings.You'll receive a notification once completed, although a page refresh once in a while on the people page will soon show the clients have finished syncing.

Keep these notes in mind with regards to the synced data.

Given the XPM API only allows a masked TFN to come through to AccountKit, the TFN's will have the appearance "*** 123. This is ok unless you are looking to use the ATO lodgement reports; To correct this you'll need import your ATO Lodgement data as follows - this is entirely optional (there will always be a bit of work to tidy up the exceptions that appear on the first import).

For further details about the ATO import process, please see

here.
i

The Partner and Manager roles do NOT populate unless a matching user is found in AccountKit

AND

they've been given the Partner or Manager role as well. Practice Administrator roles can also appear in the Partner or Manager role.
Ongoing Sync - We sync modified every couple of hours, but you can force a sync of your client data at any time as follows from the following locations.
Client - If you want to update an individual client, simply select the applicable client, then selecting "update from XPM" from the XPM icon under integrations.
People List - Select then press the action button on the right-hand side and select "Update modified clients from XPM". This will look for all updates across the entire client list.
Practice Settings - Head to the XPM integration icon and select the action icon and the Update all option. You will be notified upon completion.
| | |
| --- | --- |
| i | Ensure you have a sufficient authority level with your XPM account as the integration will take on the authority level of the user facilitating the linking process. |
Method 2 - Manually create your clients and client groups (No XPM)
Where you don't have an XPM integration, you can manually input your clients.
Head to the People area by selecting this icon.

Click the




Select the appropriate entity type

Enter the details and follow the prompts to finish adding the entity



Repeat
Method 3 - Bulk Import your clients via Excel.
(Coming soon)
Head to the

People

area by selecting this icon.
Press the Actions button
Click 'import from Excel'.

For more detail, see the

dedicated import page
| | |
| --- | --- |
| i | The bulk import function will be returning in the New UI. Stay tuned for our latest updates by following us on socials and signing up to our latest 'What's new' webinar. |
Step 3 - Invite your team
---
Let's invite your team members to AccountKit so they can begin exploring, there are two ways to bring in users to AK as follows. See here for more detail about users and their settings.
Method 1 - Add each user individually
Head to User Management

Click your Name in the bottom right-hand corner
Select User Management




Invite your new team members

Click the add icon


Enter the team member's details and select an appropriate level of authority.

Press Send Invite to send an invite to the team member.



To re-Invite a team member

If they don't accept their invite and it expires, or they can't find it, you can always send another invite by clicking on the status icon and clicking Reinvite user.

Method 2 - Import from XPM (Coming Soon)
TBD
Step 4 - Setup other integrations
---
This is where you can setup any other integrations with other cloud-based providers that AccountKit integrates with and is an important step to get the real power of operating in the cloud with other best of breed applications.
For a current list of Integrations click here.
Head back to your

Practice Setting

s under the user profile and open the

Integration Settings

tab.




Go through each available integration and authorise as required to allow a connection between AccountKit and your other tools of choice.

See

here

for more detail about integrations within practice settings.



All integrations have significant value, but a great starting point is getting your

Document Management

connected so you can save and link files directly to your DMS client data.
| | |
| --- | --- |
| i | Info Block - Enabling an integration here does NOT give others the connected integration access, it simply authorises then them to sign in with their own credentials. |
Step 5 - Book onboarding
---
Now that you're all setup it's time to book in your Onboarding session with one of the team. This is a short 30 minute session where we run through the basics, answer any questions and check your integrations and setup are looking ready to rock'n'roll.
This session is not compulsory, however, it's highly recommended to help you use AccountKit to its full potential.
Click here to book in a session.
Step 6 - Play time
---
All the hard work is done, so now would be a good time to have a look around and play with some of the different tools and get familiar with how to get around AccountKit.
Check

The Menus and Shared Elements

page to get a feel for the interface elements repeated throughout AccountKit.



Experiment with how you can edit and save to a client entity and get familiar with the client and client group structure:

Edit the details and use the XPM icon to see the impact there.

Add a description to see how it appears on the list view.

Add a custom note and assign to other entities in the group

Add a relationship.

Set the default folder for the client in the DMS (if connected)

Click on the family group name to go to the family group page.



Build your first custom view in your client list. For example, make a view as follows

Filter by business structure type - Company

Make it a favourite view so it appears in your tabs

Share it with the team so everyone can see the view



Send some test phone messages via the correspondence register.

Play with different notifications - Inapp, email, Slack or MS Teams.

Create a task in workflow and link

Link a file from the DMS

Tag with relevant tags.



Import any other registers that you may want some history tracked within AccountKit – such as the important documents register or mail register.


Set up some structure diagrams for your clients.



…
... and if you ever get a little stuck, just go to the Help icon in the top right and select "Help for this page" or search the help file for various other ideas on how you can better utilise the software.
Step 7 - Sign up!
---
As you come to the end of your trial, if we've done our job properly you will see the significant benefits in joining the AccountKit family as we seek to help you and your team perform at their absolute peak.
To kick off your subscription, follow these steps: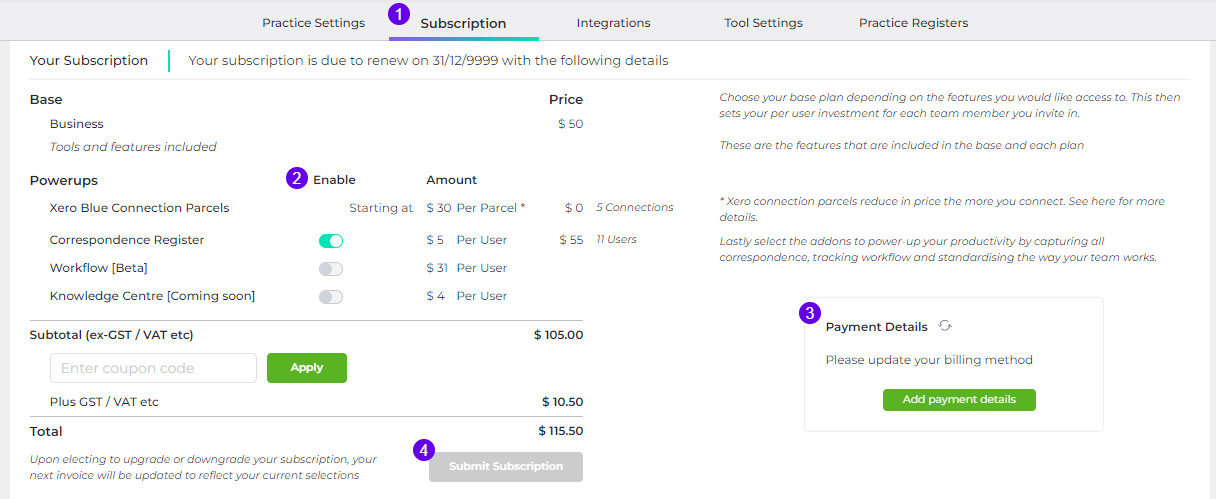 Head to Practice Settings > Subscription tab or click here


Toggle on any of the Power-Ups you would like to add.


Enter your Payment Details on the right



Press the

Update Subscription

button.
That's it, you're now part of the AccountKit family. Welcome!! 🤩